Sharpening the Technology Knife - Which talks for WebSummit '17 ?
The true effects of Internet & Global Economics are quite clear these days. We think the way we do business needs to changed fundamentally, most current strategies fit an age that is rapidly passing.
Katty and I will be heading to Portugal in a couple of days for Web Summit 17. As Design+Development advisors we are taking a break from the Prototyping a new Conversational+Audio Product to get fresh perspectives, hopefully we'll be well challenged.
Going through the talks several things stand out:
Can Innovation, Regulation, Entrepreneurism and Conservatism co-exist
We've been seeing a lot of downsides in the past year to the success of Technology. Few of them should be inherit in Technology, but do the powers that be realise that. Will there be a backlash from Regulators, Politics, Media and Big Business?
Fair play and tech 6/11 19:40 Magrethe Vestagers take on what Competition means and what regulation is needed will be an interesting indicator. As a fellow Dane I understand her take on fairness, but it seems to have been a mixed bag from the EU Commission. more food for thought...
The Big Four Tech companies are enable new ways to market products that fit well with Small Business. Yesterdays mass media advertising is hard to do when you are a company with 20 employees. We have seen this difference ourselves with a Restaurant project in Portugal where Facebook has enabled spreading the sense of what they do to tens of thousands of people who actually care. In the past that would take years not 6 months. Amazon(and Alibaba) allows small businesses to sell products all over the world. While it has a lot of destructive potential, it also enables new opportunities for independents.
Transforming organisations to be continual disrupters 7/11 12:55 It's going to be interesting to see how IBM fares in the future. Their design push certainly seems to be timely and well executed. Fresh faces or establishment holding on, I don't know. I hope to hear about the up- and downsides to Sponsor Users. It seems that making a product for your most positive users can backfire.
Direct Engagement between Brand and Consumer
Marketing in 2018: What to Expect? 7/11 14:35 seems a bit short sighted, but perhaps it gets into how Marketing is seems to be shifting in a major way as observed by many, Mark Schaefer for example. The only attendees are Big Agencies and Big Media. Where are the new players? I thought advertising was just part of Marketing. Hopefully other talks will show other angles.
Conversational tools such as Intercom are spreading from Customer Support to On-boarding and beyond. This is the polar opposite approach of mass media. When will your sales funnel be represented as a single conversation from first contact to regular customer?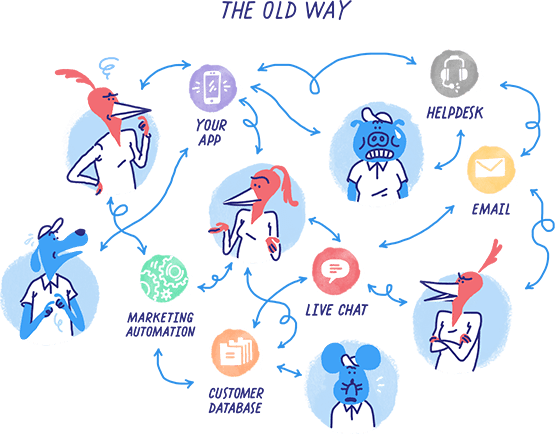 Getting product strategy right 7/11 10:30 seems to be talking about product positioning. They have positioned their product quite well and are doing some truly great work in Conversational design. The Inside Intercom is a great resource for Designers. I hope to learn more about establishing a direct customer connection.
Marketing in a mobile first world 7/11 14:45 is arguing for how Brands are still the thing to maintain, hmmm, not that sure. I'm afraid that he might be stuck in the past. We'll see.
.
The past, present, and future of conversation 7/11 14:15 Here is an opportunity to learn. What is conversation? At first it seems a dumb question, the answer is simple. Or is it really?


People and personal brands are gaining importance. Of course brands will remain important, but we increasingly trust people more than abstractions such as brands. Should our business strategy not reflect that?
And how does that affect the way we Design+Develop products. Should people be more prominent. I think we have an opportunity to use a completely different User Interface that is much more in line with mobile devices. For more you can watch my talk from Google Dev Days, Zurich - Design for Conversation.
As marketing becomes largely Digital, should we not integrate it in the Product development process as discussed before?
Storytelling and Audio for and Emotional Connection
Audio is nearly non-existent in the talks, even though Podcasts are a growing trend, be it still young. It is though one of the best ways to create intense engagement and loyalty. I would think that is something most business would do well to foster.
How far has audio come? 8/11 12:20 Hopefully they will not get stuck in a conversation about how to track listeners to podcasts. Storytelling is so different in this medium. How do you tie it to the web and mobile application use. How does conversation fit in.
Stories are a great way to communicate and build an emotional connection. I'd love to see talks about how we best do that on the web rather than Old Media whining about loosing their favoured position. There is a whole Music track, but it does seem stuck in the old piracy conversation.
hack[in] the summit 9/11 12:40 Entertainment has a role beyond background soundscape of our life. It can enrich our emotional life and help condense our thoughts. This sounds like a crackpot talk, but if you don't explore, when will you ever find something new?
Block and roll: Blockchain and music publishing Blockchains may be following the path of Web 1.0 in the 90s, but like the Web it is bound to make a major impact once we have figured out where it fits, and where it doesn't. Being in the process of designing a Music product, this might be very interesting or more hot air, we shall soon see.
Independent labels in the streaming age Indie labels are doing well. DJs are driving music. New artists are learning to manage their own brand. A prime example of Personal Branding. Where does streaming fit in. It seems clear, but I look forward to hear their perspectives.
Contrary to common knowledge the Music industry doesn't need to be saved. It adjusted to reality long ago, and is growing. The labels are smaller than before, but they understand how things work going forward. So the talk Centre Stage 9/11 16:05 is a miss. The question should instead be what sort of musical media experiences will tech enable?
Beginnings & Endings: Cinema reimagined 9/11 11:00 From the intense end-to-end experience of seeing a movie to the ongoing saga of playing an online MMO Game, there is sure to be a lot of room for developing the template. We spend around 150-200 EUR per month on Media access in our house. You'd think that would be enough to pay for Cinema without advertising being considered a key component. I hope they anchor this talk in the template for a great experience.
Digital Storytelling: Key frames, game engines and AI 9/11 12:40 Hopefully this will be the shit! Perhaps it will be more technical than their talk at the Centre Stage at 14:20. That being said I'm still reluctant to think of VR as a big future trend. That is until you can project on all sides of your living room for a saturated experience.
And an oddball thing at the Google booth Web 5.0: The emotional web 7/11 10:30, I wonder what their angle is. Interesting none-the-less.
How will AI change the way we Design+Develop?
Most businesses have treated Digital as an Add-On called "Information Technology". That seems ludicrous. Technology is at the core of human progress since we mastered fire. The use of technology must surely be at the core of most businesses that aim to capture a strong position. It is one of the ways to establish a lasting differentiation. A moat as Warren Buffet would say.
If that is true, how will business start new product initiatives in the future? Food for thought.
The beating heart of AI 7/11 15:50 The Nature of Consciousness is a great starting point for finding great design solutions. This could be a great framework. AI will surely be able to help make our software more human, enhancing our communication and quality of work.
Designing AI Into Your Business: Myths, Misunderstandings, and The Virtual Reality 8/11 10:45 AI is indeed a very misleading common label. I hope to learn something new, but I wonder how Cisco brings a good lens. Willing to be pleasantly surprised.
The next evolution of intelligent assistants 9/11 11:40 Assistants are bound to be a future way to get a lot more done, and more things that matter. Do we have the Technology and Design Patterns needed for it yet, probably not. Worth pondering for 20 minutes, certainly.


Exploring new frontiers: Space, artificial intelligence, and the future 9/11 12:10 Some Europeans are still looking forward. Hopeful.


Future for Tech in Europe
After reviewing program for the European Web Summit '17 I'm conflicted, where are the European tech companies? They might be dubious about Web Summit speaker policies or some such, but bottom line they are not participating in the conversation. They let a European web summit seems to reflect an American world view. Should American Media and Companies set the agenda in Europe?
I have lived in several smaller countries that are strong in Technology, but I see nobody from these countries. Europe also has a huge number of smaller companies in smaller countries. They seem to be keeping their head down and do business as usual. In the meantime policies and opinions are being formed.
Will Europe rise again? 8/11 14:05 It feels really odd to have Political discourse be Invite Only. I assume they have a good reason, but it's bad all the same. Is it really about religion, I doubt it. It's about habit, culture and identity. It will probably not be a very uplifting discussion. I wish be more of a grassroots push to create a future of prosperity rather than trying to recreate a past that never was.
There are many technology companies in Europe but they are mostly young, and don't seem to be represented. Do they not have a voice, or have they not learned to speak up?
I hope to understand this better at the conference
Who we are:
If you see us at the conference, come say Hi!